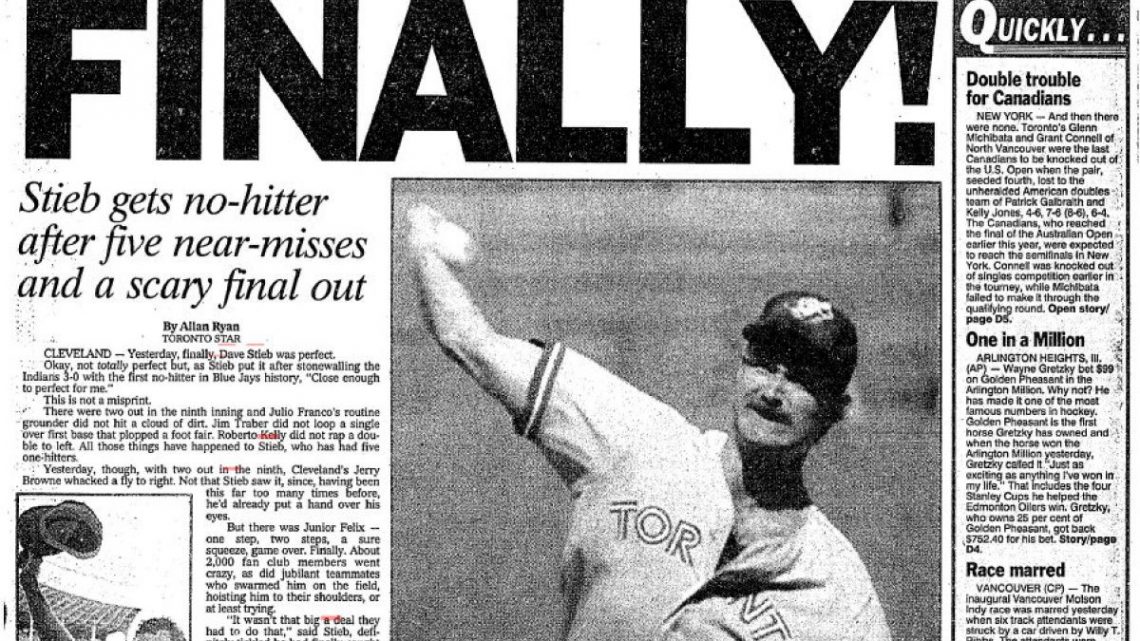 Dave Stieb Tried, And Tried, And Tried, And Tried, And Finally Climbed The Mountain
With Mark Buehrle, Tim Hudson, and Dan Haren on the Hall of Fame ballot this year, I am reminded of a similar type pitcher who held sway over the course of three different decades, and was an absolute stud in my formative years, the '80s. For a guy who never took the mound before his college-playing days at Southern Illinois University, Dave Stieb was the essence of a "pitcher," with an overpowering fastball (for the era), a plus breaking ball, and a devastating slider towards the end of his career. He quickly caught the eye of the Blue Jays scouts after only his second relief outing in college, and the rest, as they say, is history. No one has ever won more games for the Blue Jays than Stieb, who garnered 176 over a career that spanned from 1979 to 1992. But over the course of 412 starts, there are five in particular [watch after you read] that make him a legend in my (and many others') eyes. And the fact that they happened sequentially makes it all the more delicious.
Herewith:
Game #1: August 24, 1985 vs. the White Sox
Stieb walked the second batter he faced in the bottom of the first, then induced Harold Baines to ground into a 1-6-3 double play. He then hurt his own cause in the fourth with a wild throw on a Bryan Little bunt. But he struck out the next two batters to escape unscathed. He walked Carlton Fisk to lead off the fifth; and Little in the sixth; but through eight innings, he had not given up a hit.
All of that changed in the ninth. With a 6-0 lead, Stieb went right after the White Sox, and was rewarded thusly: home runs by Rudy Law and Little (that guy again) to start the frame. At that point, Stieb's night was done. As an aside, the White Sox were not. Gary Lavelle relieved Stieb and promptly gave a home run to Baines. He lasted only two more batters (a ground out a single), giving way to Tom Henke who sandwiched a single around two pop outs to end the game.
But Stieb established himself that night with eight innings of no-hit baseball that were only a precursor of things to come.
Game #2: September 24, 1988 vs. the Indians
Stieb retired the first seven batters before yielding a full-count walk to Andy Allanson. Two pitches later Allanson was cut down trying to steal second. And three pitches later, Paul Zuvella struck out to end the third inning. But Stieb was not exactly cruising, as it took him 46 pitches to get through the order a single time.
Things didn't start great in the fourth, with a leadoff walk to the leadoff hitter, Julio Franco. But only four pitches later the side was retired, after a 4-6-3 double play and a three-pitch strikeout.
Stieb sailed through the fifth, sixth, and seventh. He hit a bump in the road with a hit batter with two outs in the eighth. But when pinch hitter Terry Francona flew out deep to right, Stieb was three outs away…again.
Allanson struck out swinging and Willie Upshaw grounded out to second to start the ninth. Now Stieb was one out away. After four pitches to the next batter, Stieb was one strike away. Then Franco hit was seemed like a harmless ground ball to second. But the ghosts of Lake Erie must have been present that Saturday night, as the ball hit the lip of the infield and catapulted over Manny Lee's head into center field to end the no-hit bid. Shocked, if not dismayed, Stieb couldn't spend too much time lamenting his bad luck. He was nursing a 1-0 lead, and Dave Clark was coming to the plate representing the winning run. Stieb got Clark to fly out to deep center to end the game, but it was – at best – a moral 1-0 victory.
Game #3: September 30, 1988 vs. the Orioles
If you are paying close attention, you will note that this was Stieb's very next start after the heartbreak by the lake six days earlier.
Stieb cruised through the lineup the first time, on only 31 pitches. He plunked Joe Orsulak to lead off the fourth, but got square one pitch later with a 3-6 double play. When Cal Ripken, Jr. grounded out, Stieb was through four on only 40 pitches. He was through six on 58; and after issuing a one-out walk to Pete Stanicek in the seventh, got Ripken to promptly line into a double play to retire the side having thrown only 70 pitches.
It took eight pitches for Stieb to get through the eighth, at which point he had faced 24 batters. Three pitches into the ninth he was, once again, one out away. Four pitches later he was, once again, one strike away. Pinch hitter Jim Traber hit a ball even more softly (if that is possible) than Julio Franco had the week before. This time it was a blooper over the head of first baseman Fred McGriff. When the ball landed harmlessly inside the right-field foul line, all Stieb could do was roll his head around in despair. But Dave was able to keep his composure and get Orsulak to ground out to third to end the 4-0 Blue Jay victory.
Game #4: August 4, 1989 vs. the Yankees
Stieb started his 23rd game of the 1989 season against the Yankees with a 10-6 record and a 4.11 ERA. He had a season-high eight Ks on April 21 against the Rangers, and hadn't had more than five (twice) the rest of the year. He had walked at least one batter in each of his starts in '89. And yet, on this night in Ontario, through 8-2/3, after facing the minimum 26 batters, he had recorded 11 strikeouts and yielded nary a walk, tossing only 82 pitches. Stieb was, once again, one out away. But after falling behind 2-0 to Roberto Kelly, he gave up a solid double down the left-field line. It just was not meant to be, and my guess is that Stieb was beginning to wonder if it was ever meant to be.
But just like in the game against the Indians, Stieb didn't have time to bemoan his fate, as Steve Sax came to the plate representing the tying run. Yet unlike his previous outings, Stieb allowed the moment to get the best of him, giving up a single to Sax to make it a one-run game. But the Yankees' comeback was quickly quashed three pitches later. Stieb got the win, but lost the perfect game, lost the no-hitter, and lost the shutout in the space of three pitches.
Game #5: September 2, 1990 vs. the Indians (again)
When Dave Stieb found himself back on the mound in Cleveland the first weekend of September two years after the fact, he was having the best season of his career. By that point he was 16-5 with a 3.07 ERA. He had gone at least six innings on all but three of his 26 starts and had only surrendered nine home runs pitching in the AL East during the steroid era.
The afternoon started inauspiciously, as Stieb walked Alex Cole to start the game. Cole was promptly cut down trying to steal second, and Stieb finished off Jerry Browne and Dion James to end the first.
Stieb walked Carlos Baerga with two outs in the second, but he too was caught stealing, to make it (essentially) six up, six down.
Stieb then retired the next fifteen batters in a row before walking Ken Phelps on a 3-2 pitch to start the eighth. With 103 pitches thrown, nursing a 2-0 lead, and the 5-6-7 batters coming to the plate, Cito Gaston elected to keep Stieb on the hill. Three deep fly balls later from Brook Jacoby, Baerga, and Cory Snyder ended the frame.
And so here he was…again. For the fifth time in five years, for the fourth time in two years, where it all began at Cleveland Stadium (commonly known as Municipal Stadium), Stieb was three outs away. After Chris James flew out to deep left-center and Candy Maldonado struck out swinging, Stieb was, once again, one out away. It is impossible to know what was going through Stieb's mind as he toed the rubber to face Alex Cole (who, remember, led off the game with a walk), but it is fair to think that he momentarily lost focus, as he walked Cole on four pitches. Stieb locked in on Jerry Browne, allowing Cole to take second on defensive indifference. Fortunately, Stieb never got himself to one strike away. On a 1-1 pitch, Browne lined out to right sealing the 2-0 win; but, more importantly, ending Dave Stieb's five-year no-hit odyssey. He had finally climbed the mountain and stood, exultantly, with his first (and ultimately only) career no-hitter.
We often talk about athletes overcoming adversity to achieve greatness. But this type of adversity is of an individual nature. Stieb – and the Blue Jays – won all four of the previous no-hit bids. The accomplishment of throwing a no-hitter had nothing to do with his team's success, but only with slaying the demons that had thwarted him time and again. It takes great mental fortitude to deal with "failure" (such as it was) and to get back on that mound and do it over and over again. With those five games, culminating with a much-deserved no-no on September 2, 1990, Dave Stieb cemented himself in the hearts and minds of baseball fans everywhere.
PLAY BALL!!